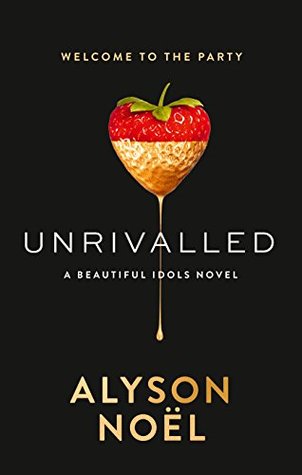 Title: Unrivaled
Author: Alyson Noel
Published: May 10, 2016
Publisher: MIRA Ink
From #1 New York
Times bestselling author Alyson Noël comes the first book in the
Beautiful Idols series. With mystery, suspense, and an insiders-only
look at Los Angeles that echoes Gossip Girl's racy and real New York,
fans of Pretty Little Liars and readers who crave pulse-pounding romance
will love Unrivalled.

EVERYONE wants to be someone.
 
Layla Harrison wants to be a reporter.
Aster Amirpour wants to be an actress.
Tommy Phillips wants to be a guitar hero.
But Madison Brooks took destiny and made it her own a long time ago.

She's
Hollywood's hottest starlet, and the things she did to become the name
on everyone's lips are merely a stain on the pavement, ground beneath
her Louboutin heel.
That is, until Layla, Aster, and Tommy find
themselves with a VIP invite to the world of Los Angeles's nightlife and
are lured into a competition. The prize, or rather the target? Madison
Brooks.

Just as their hopes begin to gleam like stars through the
California smog, Madison Brooks goes missing. . . . And all of their
hopes are blacked out in the haze of their lies.

First of all, I want to thank the person who is responsible and makes this blog tour happen. It is a good opportunity and an honor to join here. I also want to thank MIRA Ink for my book copy in exchange for an honest review. Thank you so much for trusting this book to me. With all honesty, I am not sure where to begin my blog post. It's hard to think of the appropriate words for this, why? because this book is GREAT! 

When I was reading the first few chapters I already knew that I'll enjoy reading it, I keep an eye on every character like what will happen in their own personal lives after the competition and I can't help wondering who will succeed? who will fail? As a reader, I can't help myself to have different opinions on the characters and as the story goes on, you'll notice that every one of them grows, I mean they change, they learn but the downfall is that some of them drag people down just to win. 

Layla wants to be a reporter and attends a journalism school, she can't do it because one she has to be separated with her boyfriend and second her lack of money. She's got accepted as one of Ira Redman's club promoter and with that, her life changed in an instant. 

Aster is an aspiring actress who will do anything to reach the fame she's been eyeing for so long. Despite her family wealth, she still works for herself just to reach her goal to be an actress and with that, she joined Ira's team with a mindset that she'll be getting famous.

Tommy, a simple man who works in a music shop until Ira Redman found  him. Ira visited the music shop where he works and decided to get the guitar that Tommy badly wanted, it caused him trouble when he refused to sell it but gave it away in the end. He joined Ira's team thinking that it may be a good opportunity to tell him the truth about who he really is.

I had a great time reading Unrivaled. It was not the usual story I read and enjoy most of the time and it is good to read something different. The story is not just about who will win as a club promoter but it has a touch of mystery. It's like it has an unsolved puzzle and you really need to read this just to see if you'll find an answer somewhere. (Of course, I won't tell, my lips are sealed). The book has a love story part too! I ship Layla and Tommy!!! Unrivaled is fabulous, though to be honest I keep trying to imagine every clubs described because I never been into one! (oooopss…) but I guess this book helped gave me an overview what a club looks like eh? Sadly… cliffhanger!!! What happened to Aster?! (Dear Alyson Noel, can you give me a hint? Please? –twitter handle: @camelle_r) 

Before I end this, I also want to tell something about the book cover… IT IS STUNNING! The black cover and the white one looks so elegant. The cover is simple yet catchy! I'm so in love with it and I really want to have both white and black covers. I need them!!! 

Once again, thank you and I hope I didn't spill too much information because seriously? I had a hard time reviewing this, I can't find the right words! The book is amusing, stunning and worth it.
My Ratings
Number One New York Times bestselling author Alyson Noël has won numerous awards and achieved international bestseller status for her wildly popular young adult series, The Immortals and The Soul Seekers, and her middle grade series, Riley Bloom. Alyson Noël is an established global phenomenon with books printed in 36 languages and sold in over 50 countries.  Now she is taking on the seductive world of L.A. nightlife in a new series using what she knows best: steamy romance and high-stakes Hollywood competition.
Alyson Noël is the bestselling author of twenty-three novels, including The Immortals, Riley Bloom, and Soul Seekers series. With millions of copies in print, her books have been translated in thirty-six languages and have made numerous international bestseller lists. Born and raised in Orange County, California, she's lived in both Mykonos and Manhattan, and is now settled back in Southern California, where she's working on her next book. You can visit her online at http://www.alysonnoel.com