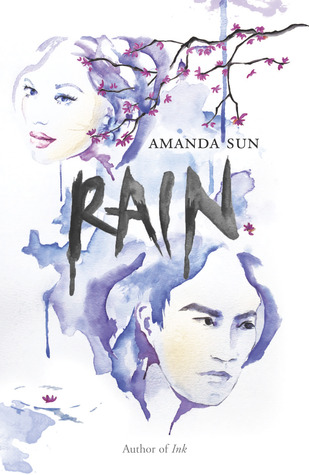 Title: Rain (Paper Gods #2)
Author: Amanda Sun
Publisher: Harlequin Teen
Published: June 24, 2014


American Katie Green has decided to stay in Japan. She's started to build a life in the city of Shizuoka, and she can't imagine leaving behind her friends, her aunt and especially Tomohiro, the guy she's fallen in love with. But her return is not as simple as she thought. She's flunking out of Japanese school and committing cultural faux pas wherever she goes. Tomohiro is also struggling—as a Kami, his connection to the ancient gods of Japan and his power to bring drawings to life have begun to spiral out of control.
When Tomo decides to stop drawing, the ink finds other ways to seep into his life—blackouts, threatening messages and the appearance of unexplained sketches. Unsure how to help Tomo, Katie turns to an unexpected source for help—Jun, her former friend and a Kami with an agenda of his own. But is Jun really the ally he claims to be? In order to save themselves, Katie and Tomohiro must unravel the truth about Tomo's dark ancestry, as well as Katie's, and confront one of the darkest gods in Japanese legend.
If you haven't read this book yet or the first book Ink , you're missing the fun! I suggest every one should try to read this, and if you're an anime fan? I swear you'll enjoy this. I personally had fun reading the first book and this second book, still it looks like a manga to me without no photos on every pages, but I could imagine everything. It is so much fun to read and it was like I am watching a movie (Oh how I wish this is a movie! PLEASE!). The story is straight forward with some touch of Japanese history on it and the way it was written is not a boring one. I just found myself turning the page over and over until I reached the end. Plus! You'll learn some Japanese words. LOL. 
Of course, a book without romance is not complete, but this one is kind of challenging, it is because the two persons involved contains a power that are dangerous when they're near each other. But!!!! I seriously like Tomohiro, I'll give you a hint, he is one of the strongest Kami. I see him as a sweet, easy going type of boyfriend. He is in a relationship with Katie, the american girl (read the book one please!). Anyway, I love their relationship always trying and always protecting each other's back. Not just that, their relationship has been put to a test so many times and yet, they're still together. There's another hindrance on their relationship, another guy… I won't say the name, but Tomohiro doesn't like him since they met on the first book. I guess he is his mortal enemy and yet, Katie is close to this guy. The three of them has a hidden secrets that were revealed here on the second book. It was really awesome and mind twisting.
Is it obvious that I've enjoyed reading the book? Well.. honestly.. it was worth my time, it was a great read. I like it so much! and I can't wait for the third book! so far, it is a cliff hanger the story doesn't end there because the author revealed another Katie secret. Well.. I guess.. the next book will focus on Katie? There are questions in my head now.. like what's Katie's power? How can she affect Tomohiro's power now? When will the Kami war ends? I am really excited for everything hopefully the wait is not that long! 
And before I end the review… I want to praise the cover of the book! Look at that, Japanese themed yeah? very pretty!!! I love it so much! The first book was a pink cover book, now purple… I wonder what's the next one? I seriously can't wait!!! And hopefully, this turned in  to a movie!
My Rating
I'm a YA author and proud Nerdfighter. I was born in Deep River, Canada, a very small town without traffic lights or buses, and where stranger safety is comprised of what to do if you see 
a bear—or skunk. I started reading fantasy novels at 4 and writing as soon as I could hold a pencil. Hopefully my work's improved since then.
​In university I took English, Linguistics, and Asian History, before settling into Archaeology, because 
I loved learning about the cultures and stories of ancient people. Of course, I didn't actually become an archaeologist—I have an intense fear of spiders. 
I prefer unearthing fascinating stories in the safety of my living room.
​The Paper Gods is inspired by my time living in Osaka and travelling throughout Japan. That and watching far too many J-Dramas. I currently live in Toronto with 
my husband and daughter. When I'm not writing, I'm devouring YA books, knitting nerdy things like Companion Cubes and Triforce mitts, 
and making elaborate cosplays for anime cons.