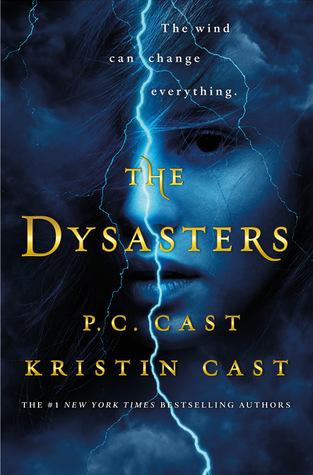 THE DYSASTERS
By P.C. Cast and Kristin Cast
Wednesday Books
On Sale: February 26, 2019
Available in Hardcover, eBook, and Audio
BOOK BLURB:
P.C. and Kristin Cast, the #1 New York Times bestselling authors of the House of Night phenomenon, return to the scene with The Dysasters—the first action-packed novel in a new paranormal fantasy series.
Adoptive daughter of a gifted scientist, Foster Stewart doesn't live a "normal" life, (not that she'd want to). But controlling cloud formations and seeing airwaves aren't things most eighteen year olds can do.
Small town star quarterback and quintessential dreamy boy next door, Tate "Nighthawk" Taylor has never thought much about his extra abilities. Sure, his night vision comes in handy during games, but who wouldn't want that extra edge?
From the moment Foster and Tate collide, their worlds spiral and a deadly tornado forces them to work together, fully awakening their not-so-natural ability – the power to control air.
As they each deal with the tragic loss of loved ones, they're caught by another devastating blow – they are the first in a group of teens genetically manipulated before birth to bond with the elements, and worse… they're being hunted.
Now, Foster and Tate must fight to control their abilities as they learn of their past, how they came to be, who's following them, and what tomorrow will bring… more DYSASTERS?
Disclaimer: I received a copy of this book in exchange of an honest review. No payments made between me and the publisher.
First of all, I want to say that I am so grateful to be part of this book tour. I've heard good reviews or news about P.C. Cast and Kristin Cast books and The Dysasters is the first book I read from them. I enjoyed reading this a lot. This book is a series and I am looking forward for the next book since I want to find out more about Foster, Tate and the other kids. 
The Dysasters, I had to read this book quickly just to be able to post this review and even if I had to do a "quick read", I enjoyed a lot of scenes especially how Foster and Tate started. Also, before I go on, I really would love to say this, another reason why I enjoyed this book is I remember reading a book like this one, not about having elements as powers but it is because of the scientifically tweaked DNAs, I do love that series a lot. Now, for this book, I am so excited for the next books to come in the future (who knows there might be something already!) Anyways, going back to my review proper, Foster and Tate met in an event that didn't turn out great, as they go along with their journey, they learned more about their abilities (I began to love it) and their connections with each other. These two characters made the book more exciting, of course, the book isn't enough if there isn't any villains. This is what I am really curious about. What happened to Foster's adoptive father? I mean, they said he is dead, but… (it's for the readers to find out). 
I don't want to spoil the book! Apologies. The book is an easy read. It is a straight-forward type, the story just flows and you won't get lost in every chapter also, I LOVE the drawings. I enjoyed that one, it makes the book more alive especially when they're showing their abilities. It was very helpful, more illustrations please??? 
I'd cut my review short now because I really don't want to spoil my readers, I would love for them to enjoy the book as much as I did. Tate and Foster for the win!!! Well I hope to read more about them on the succeeding books and, I would love to know more about the connection of the pair of elements to the existing ones and their so called "father". These characters are a lot to take in and I am just so eager to discover the two other element young-lings and what kind of disasters do they bring. I do hope, they way they will all meet isn't bad as how Tate and Foster met. 
"People could be cruel. Very cruel. Especially people who claimed to be her friend."
My Ratings
#1 New York Times & #1 USA Today bestselling author P.C. Cast was born in the Midwest, and, after her tour in the USAF, she taught high school for 15 years before retiring to write full time. PC is a member of the Oklahoma Writers Hall of Fame. Her novels have been awarded the prestigious: Oklahoma Book Award, YALSA Quick Pick for Reluctant Readers, Romantic Times Reviewers' Choice Award, Booksellers' Best, and many, many more. Ms. Cast is an experienced teacher and talented speaker who lives in Oregon near her fabulous daughter, her adorable pack of dogs, her crazy Maine Coon, and a bunch of horses.
Kristin Cast is a #1 New York Times and #1 USA Today bestselling author who teams with her mother to write the wildly successful House of Night series. She has editorial credits, a thriving t-shirt line, and a passion for all things paranormal. When away from her writing desk, Kristin loves going on adventures with her friends, family, and significant other, playing with her dogs (Grace Kelly and Hobbs the Tiny Dragon), and is currently obsessed with her baby.
 
BUY LINKS
Amazon: https://www.amazon.com/Dysasters-P-C-Cast/dp/1250141044
Audible: https://www.audible.com/pd/The-Dysasters-Audiobook/B076XQ72M5
Barnes & Noble: https://www.barnesandnoble.com/w/the-dysasters-p-c-cast/1127202690?#/
Books-A-Million: https://www.booksamillion.com/p/Dysasters/P-C-Cast/9781250141040
iBooks: https://itunes.apple.com/cy/book/the-dysasters/id1300201444
IndieBound: https://www.indiebound.org/book/9781250141040
Kobo: https://www.kobo.com/us/en/ebook/the-dysasters
SOCIAL MEDIA
P.C. Cast
Facebook: @pccastauthor
Twitter: @pccastauthor
Instagram: @pccastauthor

Kristin Cast
Twitter: @KCastAuthor
Instagram: @kcastauthor
Wednesday Books
Facebook: @WednesdayBooks
Instagram: @WednesdayBooks
Twitter: @WednesdayBooks