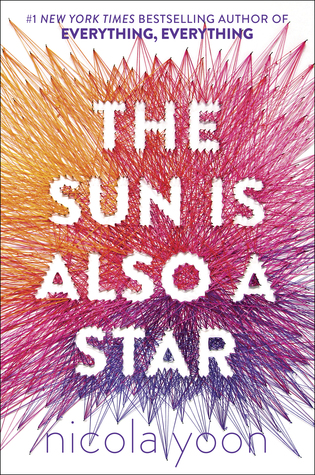 Title: The Sun Is Also A Star
Author: Nicola Yoon
Publisher: Delacorte Press
Published: November 01, 2016
Natasha: I'm a girl who
believes in science and facts. Not fate. Not destiny. Or dreams that
will never come true. I'm definitely not the kind of girl who meets a
cute boy on a crowded New York City street and falls in love with him.
Not when my family is twelve hours away from being deported to Jamaica.
Falling in love with him won't be my story.

Daniel: I've always
been the good son, the good student, living up to my parents' high
expectations. Never the poet. Or the dreamer. But when I see her, I
forget about all that. Something about Natasha makes me think that fate
has something much more extraordinary in store—for both of us.

The
Universe: Every moment in our lives has brought us to this single
moment. A million futures lie before us. Which one will come true?
Disclaimer: I received a copy of this book in exchange of an honest review. No payments made between me and the publisher.
I've been a fan of
Nicola Yoon ever since I read Everything, Everything. I fell in love with that
book instantly and now, I've been looking forward reading The Sun Is Also A
Star with high expectations, and to be honest, the author never failed to amaze
me. The Sun Is Also A Star is another worth buying and reading book.
The book is all
about a Jamaican girl who will be deported because of their expired visas and
documents. And about a Korean-American boy who will be having his interview for
Yale to study a doctorate degree. Their paths crossed in an unplanned way,
their story started in a weird way but everything worked out for them. Tested
love in scientific way, random questions and other adventurous things just for
a day with a complete stranger. It's funny how someone who doesn't mean so much
to you before became your world just being with them for a day.
"You can't persuade someone to love you"
With all honesty,
this was the only book I read during my long weekend break, I was busy from the
previous days and this book was out November 1st, Belated Happy Book Birthday
again! I love everything about this book. The cover? It is stunning! I love the
color combination of the cover. It is perfect! I can stare at it all day
without getting tired. The story? I really enjoyed reading it, such a light
read and the story is catchy which is impossible to ignore. The book gave me
hope even at the ending. I knew it wouldn't end bad but still I got carried
away with the story and my guesses were mixed up, I'm grateful that the book
ended in a good way.
Words aren't enough
to describe about The Sun Is Also A Star. I get this hyper feeling that I want
to spoil everyone with what was written but I knew I can't. I just can't…
readers have to find it out on their own. All I can say is that, I love this
book and I'm looking forward for more Nicola Yoon masterpiece.
"Sometimes the truth can hurt more than you expect"
My Ratings