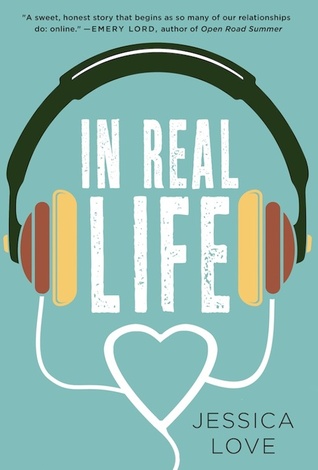 Title: In Real Life
Author: Jessica Love
Published: March 01, 2016
Publisher: St. Martin's Press
Hannah Cho and Nick
Cooper have been best friends since 8th grade. They talk for hours on
the phone, regularly shower each other with presents, and know
everything there is to know about one another.

There's just one problem: Hannah and Nick have never actually met.

Hannah
has spent her entire life doing what she's supposed to, but when her
senior year spring break plans get ruined by a rule-breaker, she decides
to break a rule or two herself. She impulsively decides to road trip to
Las Vegas, her older sister and BFF in tow, to surprise Nick and
finally declare her more-than-friend feelings for him.

Hannah's
surprise romantic gesture backfires when she gets to Vegas and finds out
that Nick has been keeping some major secrets. Hannah knows the real
Nick can't be that different from the online Nick she knows and loves,
but now she only has night in Sin City to figure out what her feelings
for Nick really are, all while discovering how life can change when you
break the rules every now and then.
Having an online friendship (or more than friendship) with someone is really hard especially if you're really miles away. In Real Life is the kind of book where people in a long distance relationship (like me) could relate. The book will teach you some of the lessons in life that people nowadays lack of. 
I personally enjoy reading In Real Life, not so many twists and very straight-forward the story focuses on Hannah and Nick's love and friendship story. There were other characters but the focus on this book is mostly on the two. Some readers might find the first parts a little bit slow because that's what it is folks. I myself is excited how the characters will admit to each other that they're in love but of course it isn't fun without hindrance. You'll find this book interesting because of their own self discovery too. It is fun to read this book because you'll also discover how each characters grow, especially Hannah. The book is full of excitement and heartbreak at first but in the end the mood shift is just so beautiful. I loved it.
Reading this book made me realized that running away from your problems won't do you any good, the problem will still exists without solving anything. So instead of running away, turn around and face it. No matter what the results are at least you've tried without any worry at the end. 
"Remember. It's possible for life to be scary and fun at the same time. The scariness is the fun."
— IN REAL LIFE PLAYLIST —
Jessica Love is a high school English teacher in Los Angeles, California, where she met her husband and her two tiny dogs online. She is the co-writer of Push Girl with Chelsie Hill.
— AUTHOR INTERVIEW —
Tell me something about you aside from being an author.
I'm also a high school English teacher, which I really, really love. I get to hang out with cool, smart teenagers all day, and they always make me laugh.
When did you start writing?
I've been writing in some form or another since I was a kid. I used to have a bunch of pen pals and I would write them long, long letters. After that, I started a blog that got pretty popular, and I blogged every day. Then I had a wedding blog, then I had a book blog. I finally decided to point my love of writing to fiction about 8 years ago and tried NaNoWriMo for the first time. So while I haven't always written fiction, I've been writing as long as I can remember.
Where's your favorite place to write/read?
My favorite place to write is Panera Bread. They have comfy chairs, hot coffee, yummy food, tasty treats, and they let me hang out all day. I can find myself there for hours and hours and hours and completely forget what day it even is. 
Would you consider writing a different genre than the one you used to?
I would love to write in a different genre! I always write contemporary realistic because those are the ideas that I always have. My mind just doesn't seem to work in fantasy or sci-fi, but I'm hoping that I have an idea like that one day because I think I'd have so much fun writing it!
How many books did you write or publish? What's your favorite book from the one you've written?
I have two books published, IN REAL LIFE and my debut novel PUSH GIRL that I co-wrote with Chelsie Hill. I also have a couple of finished books sitting around on my hard drive. Even though PUSH GIRL was really Chelsie's story, I still put a lot of myself into it. But IN REAL LIFE is my favorite because it's one that I worked on for so long and is so personal to me.