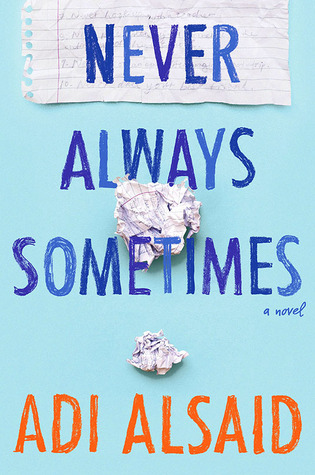 Title: Never Always Sometimes
Author: Adi Alsaid
Publisher: Harlequin Teen
Published: August 4, 2015
Never date your best friend.
Always be original.
Sometimes rules are meant to be broken.
Best
friends Dave and Julia were determined to never be cliché high school
kids—the ones who sit at the same lunch table every day, dissecting the
drama from homeroom and plotting their campaigns for prom king and
queen. They even wrote their own Never List of everything they vowed
they'd never, ever do in high school.
Some of the rules have been easy to follow, like #5, never dye your hair a color of the rainbow, or #7, never hook up with a teacher. But Dave has a secret: he's broken rule #8, never pine silently after someone for the entirety of high school. It's either that or break rule #10, never date your best friend. Dave has loved Julia for as long as he can remember.
Julia
is beautiful, wild and impetuous. So when she suggests they do every
Never on the list, Dave is happy to play along. He even dyes his hair an
unfortunate shade of green. It starts as a joke, but then a funny thing
happens: Dave and Julia discover that by skipping the clichés, they've
actually been missing out on high school. And maybe even on love.
I've been trying to write a review for this since I finished reading the book, unfortunately I can't come up with a good and sensible one. I am having a hard time to review this, the book cover and title is simple yet you'll ask yourself why is the title made like that? Then the blurb (which I didn't focus on that much, because this is Adi Alsaid, I love his work) is simple and catchy.. I was curious and excited to read this book that's why I'm really thankful because I was accepted to have an e-ARC in NetGalley. 
Did I mention that the story is simple where you will think that you already know what will be the ending of the book yet there were twists in the story so everything you thought and hoped for didn't even happen. This book is just like that, like their own love story which is twisted… (that's the term, I think). I adore their friendship though, they're strong and really good as friends yet things changed for a bit and that caused a little misunderstanding between them. Dave and Julia, are two inseparable teenagers who wanted to experience things that are outside of their usual teenage life. What they did is a good thing for some reason, experiencing life that they've taken for granted for so long is one good decision in life. Anyways the book is full of cliche's. Fun, exciting and you'll absolutely love Julia for she is really energetic in this book. Dave on the other hand is like the observer. He observes every thing that is happening around him even Julia, who he secretly loves. Their
I think this book gives me another view in life that not all of your friends will end up as lovers or not all lovers will end up as friends. Sometimes, destiny weighs you it will give you choices but it is up to the person who he/she will choose. Friends are there to guide us and no matter what happened, friendship shouldn't be wasted. 
A must read book! I badly want to have a copy of this, been searching in the bookstores over my place but I haven't seen one yet, or I did I just can't remember LOL. Readers like me will enjoy this book and hopefully they do as much as I did.
My Ratings