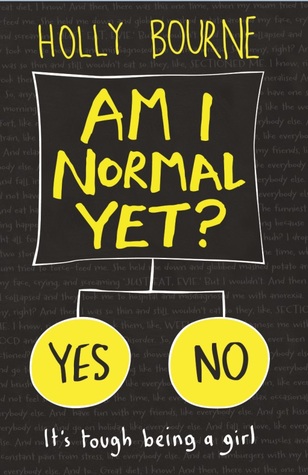 Title: Am I Normal Yet?
Author: Holly Bourne
Published: August 01, 2015
Publisher: Usborne
All Evie wants is to be
normal. She's almost off her meds and at a new college where no one
knows her as the girl-who-went-crazy. She's even going to parties and
making friends. There's only one thing left to tick off her list…

But
relationships are messy – especially relationships with teenage guys.
They can make any girl feel like they're going mad. And if Evie can't
even tell her new friends Amber and Lottie the truth about herself, how
will she cope when she falls in love?
This is my first Holly Bourne book and I am so looking forward to reading this. I am fascinated by the cover and the title of the book, simple but mysterious. I knew something's wrong with the main character but what? I've decided to read the book sooner than I can and I enjoyed every little detail of the book. 
Evie is sick and sometimes I really thought she's a crazy girl but no, her mental state when it comes to cleanliness is just not normal from other people. She's trying to be 'normal' for the eyes of other people. She keeps trying her best just for her to be accepted in the society that she believes existed. Parties, boyfriend, lots of friends. She fell in love or liked guys but those men just played on her. It's the thing she can't handle, she broke down. Despite of her true new friends Amber and Lottie, she didn't listen to their advice, she thinks they are wrong. She thinks she's the right one. She didn't even tell her about her state, afraid that they wont accept her until something happened to her.
"Love means someone accepts you for who you are, unconditionally."
Fun, crazy and enjoyable type of book. You'll just continue reading until you find out what will really happen to the characters most specially to Evie. I feel like I'm inside the book but the down side of it is that I want to yell at her for some reason because Evie is also self-centered.She was only focused on what will other people tell her or how will the society accepts her. She wants to be normal and prove to other people that not noticing that she have her family and friends at her back. But despite of that, she learned. 
"Life is better and then it is worse, over and over, for everyone"
I'm looking forward for more Holly Bourne books, I feel like this is the start of being "author addicted" LOL. I just really had fun reading this book. It's not just all fun but it also leaves you a life lessons. I do recommend this to other readers I am one hundred percent sure they will like this.
My Ratings