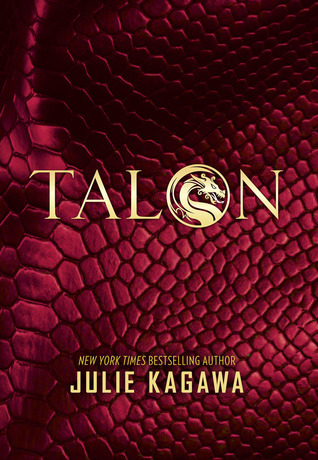 Title: Talon
Author: Julie Kagawa
Publisher: Harlequin Teen
Published: October 28, 2014
Long ago, dragons were
hunted to near extinction by the Order of St. George, a legendary
society of dragon slayers. Hiding in human form and growing their
numbers in secret, the dragons of Talon have become strong and cunning,
and they're positioned to take over the world with humans none the
wiser.

Ember and Dante Hill are the only sister and brother known
to dragonkind. Trained to infiltrate society, Ember wants to live the
teen experience and enjoy a summer of freedom before taking her destined
place in Talon. But destiny is a matter of perspective, and a rogue
dragon will soon challenge everything Ember has been taught. As Ember
struggles to accept her future, she and her brother are hunted by the
Order of St. George.

Soldier Garret Xavier Sebastian has a
mission to seek and destroy all dragons, and Talon's newest recruits in
particular. But he cannot kill unless he is certain he has found his
prey: and nothing is certain about Ember Hill. Faced with Ember's
bravery, confidence and all-too-human desires, Garret begins to question
everything that the Order has ingrained in him: and what he might be
willing to give up to find the truth about dragons.
First of all, thank you Harlequin Teen and NetGalley for giving me a chance to review this book, I've got the copy through NetGalley months ago in exchange for an honest review. I also received a hardbound copy from a friend months after receiving the e-ARC. I was eager to read and finish the book because I knew this will be another promising series.
I fell in love with this book the moment I received it. I think this was the first book that made me think of removing the book jacket. I was like.. "THIS IS AWESOME!!!" I seriously loved how it was designed. The black hardbound and gold design was perfect, the dust jacket has the scaly texture which was awesome too! I liked it so much! 
The book is full of adventure, challenge and sacrifices. The story focuses on Ember's dreams to be someone different. She's a dragon but her human adoption is getting in to her skin. She wants to be someone else and tired of the Talon rules with that, she became curious and she met Riley a rogue dragon. He was the one who help her answer her questions about Talon things became clearer in Ember's head because of the information fed to her. The story doesn't end there, as human Ember also met Garret. He is a human and a member of St. George, he's one of the most trusted member and meeting Ember will change his life.
Yaaaasss! I love Ember and Garret.. oh wait I love Garret more! He's the kind of guy who doesn't know what to do with a girl she likes and denies things. Well, I find it cute actually but annoying too because…. duh?! You liked her but you can't? Oh come on, forbidden love. I like the adventure part especially when Ember is transforming to a dragon it was like "YES TO FREEDOM". But Ember is the kind of woman who always break the rules no matter what. She fights for what she wants and what she believe. She's brave and kind.  
It's just an annoying fact that I finished the book longer than I
expected. I badly want to finish it early but work has been really
hectic, but then better late than never right? I loved every thing about
this book. I was always excited to read and know what will happen to Ember and Garret, Ember and her brother Dante and Ember and the rogue dragon Riley. I'm always curious who will win at the end and if Ember will be able to pursue her dream. The book left so many questions in mind because… sad to say, it's a cliffhanger. Readers might as well read Talon followed by Rogue (the second book in the series). I suggest that because this book is worth it. I wasn't contented with just the e-book so… a hardbound copy was given to me. 
I am hoping to read Rogue next but then I'm still scheduling it. To be honest thinking about reading it sooner rather than later makes me so excited!!! I want to know what will happen to Garret. I want to know Ember's new adventure. There are so many things to look forward to in this book. 
My Ratings
Julie Kagawa, the New York Times bestselling author of the Iron Fey
and Blood of Eden series was born in Sacramento, California. But nothing
exciting really happened to her there. So, at the age of nine she and
her family moved to Hawaii, which she soon discovered was inhabited by
large carnivorous insects, colonies of house geckos, and frequent
hurricanes. She spent much of her time in the ocean, when she wasn't
getting chased out of it by reef sharks, jellyfish, and the odd eel.

When not swimming for her life, Julie immersed herself in books, often
to the chagrin of her schoolteachers, who would find she hid novels
behind her Math textbooks during class. Her love of reading led her to
pen some very dark and gruesome stories, complete with colored
illustrations, to shock her hapless teachers. The gory tales faded with
time (okay, at least the illustrations did), but the passion for writing
remained, long after she graduated and was supposed to get a
real job.
To pay the rent, Julie worked in different bookstores over the years,
but discovered the managers frowned upon her reading the books she was
supposed to be shelving. So she turned to her other passion: training
animals. She worked as a professional dog trainer for several years,
dodging Chihuahua bites and overly enthusiastic Labradors, until her
first book sold and she stopped training to write full time.
Julie now lives in Louisville, Kentucky, where the frequency of shark
attacks are at an all time low. She lives with her husband, an
obnoxious cat, an Australian Shepherd who is too smart for his own good,
and a hyper-active Papillion.