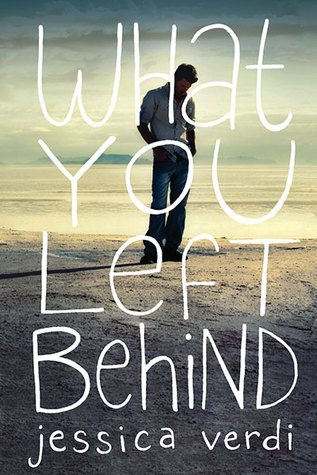 Title: What You Left Behind
Author: Jessica Verdi
Date of Publication: August 4, 2014
Publisher: Sourcebooks
It's all Ryden's fault.
If he hadn't gotten Meg pregnant, she would have never stopped her chemo
treatments and would still be alive. Instead, he's failing fatherhood
one dirty diaper at a time. And it's not like he's had time to grieve
while struggling to care for their infant daughter, start his senior
year, and earn the soccer scholarship he needs to go to college.

The
one person who makes Ryden feel like his old self is Joni. She's fun
and energetic—and doesn't know he has a baby. But the more time they
spend together, the harder it becomes to keep his two worlds separate.
Finding one of Meg's journals only stirs up old emotions, and Ryden's
convinced Meg left other notebooks for him to find, some message to help
his new life make sense. But how is he going to have a future if he
can't let go of the past?
A book with a pretty story of a single young man who became a father in his early age (high school). I saw this book on NetGalley and requested right away, I didn't bother focusing on the blurb because I was curious on the title "What You Left Behind". I suddenly wonder if this is a good book or not, I didn't bother checking anything that will encourage me to read the book even more. My curiosity is enough to continue reading and discover what the book wants to tell me. With so much honesty, I enjoyed reading and decided to continue until I found out how this guy Ryden, will overcome his insanity over his so called messed up life. 
Ryden is a simple high school student who pretty much love soccer. He's the star of the soccer team. Meg, is just a simple girl who has a crush on Ryden, she has cancer. She wants to live her life to the fullest. Two of them crossed their worlds, and things started to change. They became close and fell in-love with each other. One thing that change their lives is when Meg got pregnant and she refused to have an abortion. Ryden tried to convinced her but she refused until the very end. Meg gave birth to the baby and unfortunately she didn't make it alive. Hope, was born and Ryden's life shifted.
How did Ryden survive the fatherhood in the book? How did he coped up with the situation? Will he able to forgive himself from Meg's death? These are just some of the questions in my head. I knew the feeling of being left behind with a big responsibility on your shoulders. It's like suddenly you're carrying the earth. Not that I have a kid, I'm single and no kids at all, but I can relate because when my mom died, I took care of my siblings even though their big enough they still need someone to look over them. It's pretty crazy to be honest, so I can't blame Ryden when he thought that his life just sooooo unlucky/messed up/insane. But what I liked about him is that he realized the things that matters most in the end. He started to change his life in a beautiful way and not just that, he met Joni.
Okay, I won't say anything much now because I might spoil everybody who's reading this. I don't wanna do that. All I can say is that, this book is pretty. You'll enjoy the every part of the story until you find yourself reaching "the end".
"It's easy to meet people. Real friends are harder to come by."
"Finding someone you can really connect with is like winning the fucking lottery – if happens basically never, but if it does, you really shouldn't blow it." 
My Ratings