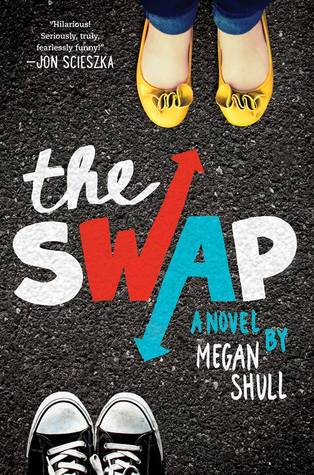 Title: The Swap
Author: Megan Shull
Publisher: Katherine Tegen Books
Published: August 26, 2014
"YOU BE ME…AND I'LL BE YOU."

ELLIE
spent the summer before seventh grade getting dropped by her best
friend since forever. JACK spent it training in "The Cage" with his
tough-as-nails brothers and hard-to-please dad. By the time middle
school starts, they're both ready for a change. And just as Jack's
thinking girls have it so easy, Ellie's wishing she could be anyone but
herself.

Then, BAM! They swap lives—and bodies!

Now Jack's
fending off mean girls at sleepover parties while Ellie's reigning as
the Prince of Thatcher Middle School. As their crazy weekend races
on—and their feelings for each other grow—Ellie and Jack begin to
realize that maybe the best way to learn how to be yourself is to spend a
little time being someone else.
This book was in my to-be-read pile since I got the ARC but I never got the time or mood to read this. There's something about it that makes me think twice whether to read it or not. I was thinking it will be like Eleanor and Park by Rainbow Rowell or Say What You Will by Cammie McGovern and to be honest the feelings while reading this was the same one when I was reading the books I have mentioned above, and that's a good thing because I enjoyed it. I was so ready to finish it in one day but I was sad because I have to do something else like house chores and work in the office so finishing it got really delayed that's why half of the book was finished yesterday, June 21.
The story flow was a pretty one. I always imagine myself to be in a body of a guy and to feel what they feel because I always wanted to be a guy but it won't ever happen I know so for a minute I considered Ellie a lucky character because she was able to swap body to a guy and not just a guy but a popular guy! This book is full of awesomeness because each turn of the page? Either you will laugh, smile, get pissed off or learn something from each individual lives.
This type of book are the ones you will hardly put down. All you wanted is to read until you reach THE END yet, when you did you'll probably ask for more. The cover of the book is also catchy and so with the title. I got curious the first time I saw it. I suddenly remember Every Day at this book. Living in somebody else's body? well have you imagined now how this one looks? I think people who will read this will enjoy everything.
This is such an easy read but fantastic book that you will fall in love with.
"Sometimes we miss people, and it's beyond words."
My Rating
Born and raised in Ithaca,
New York, Megan Shull is the author of THE SWAP and several books for
kids including the award-winning young adult novel Amazing Grace. Megan
holds a doctorate in educational psychology from Cornell University,
where she also earned her undergraduate degree. She lives in her
hometown, where she feels especially lucky to walk the quiet rolling
hills alongside red-tailed hawks and waterfalls.
Megan Shull's new novel, The Swap, is available NOW from HarperCollins.
THE SWAP
"A
beautiful feat of swapped voices. Hilarious! Seriously, truly,
fearlessly funny. And I don't want guys to miss it." —Jon Scieszka, the
first National Ambassador for Young People's Literature, founder of the
Guys Read literacy initiative, and NY Times Bestselling author of The
Stinky Cheese Man
"The book is heartbreaking and
hilarious—truly evocative of middle school experiences. A great,
entertaining read that will appeal to boys and girls. A highly
recommended purchase."—School Library Journal
"Bravo, Megan
Shull! Hilarious and yet surprisingly touching at the same time, The
Swap gives us a microscopically close insider's view at the differences
(and similarities) between the lives of boys and girls. I don't know how
Megan did it, but I'm really glad she did!" —Meg Cabot, author of The
Princess Diaries and Allie Finkle's Rules for Girls
"Funny,
honest and touching, The Swap is the perfect book for tweens ready to
learn what's going on inside the minds (and bodies) of the opposite
gender. Jack and Ellie are such wonderful characters and those
brothers-wow!" —Frances O'Rourk Dowell, New York Times bestselling
author of Dovey Coe and The Secret Language of Girls
"The
internal lives of both boy and girl come across as both authentic and
heartwarming… Readers curious about how the other half lives will thrill
at this view from the far side of the fence." —Kirkus Reviews
Autumn 2014 Kids' Indie Next List selection—"Inspired Recommendations for Kids from Indie Booksellers"
2015 Bank Street Center for Children's Literature Best Children's Books of the Year List
Say hey at heymegan.com and on Twitter @meganshull
Source: Goodreads