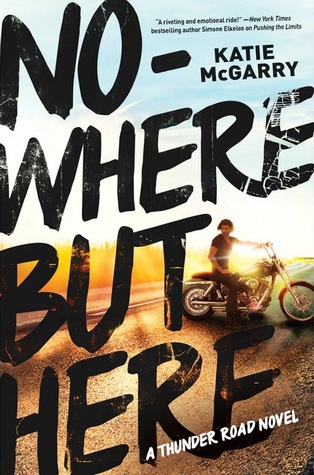 Title: Nowhere But Here
Author: Katie McGarry
Publisher: Harlequin Teen
Published: May 26, 2015
Seventeen-year-old Emily likes her life the way it is: doting parents, good friends, good school in a safe neighborhood. Sure, she's curious about her biological father—the one who chose life in a motorcycle club, the Reign of Terror, over being a parent—but that doesn't mean she wants to be a part of his world. But when a reluctant visit turns to an extended summer vacation among relatives she never knew she had, one thing becomes clear: nothing is what it seems. Not the club, not her secret-keeping father and not Oz, a guy with suck-me-in blue eyes who can help her understand them both.
Oz wants one thing: to join the Reign of Terror. They're the good guys. They protect people. They're…family. And while Emily—the gorgeous and sheltered daughter of the club's most respected member—is in town, he's gonna prove it to her. So when her father asks him to keep her safe from a rival club with a score to settle, Oz knows it's his shot at his dream. What he doesn't count on is that Emily just might turn that dream upside down.
No one wants them to be together. But sometimes the right person is the one you least expect, and the road you fear the most is the one that leads you home.
I was granted an eARC in return for an honest review, at the same time I saw a book tour and decided to join right away.
Complicated,
ravishing, tear jerking and heartwarming story. This will give you
a different experience while reading. It made me laugh and doubt
about the characters, it made me cry a lot because of Olivia, Eli and
Oz. It made me worry about Oz and Emily and so many more emotions that
flowed out. 
The first few pages of the book honestly made me think if this is my type of book, but I decided to read it anyway and twists made me continue more. I was stunned, the way it was written is a good one, I love every wise words written on it. I like how catchy those phrases are. I love how the words touched the way I will remember it. Simple yet elegant. The book itself contains a lot of secrets to be revealed. The love story of Emily and Oz is something that I want to keep reading. The love and respect between them is really inspiring! (does that happen in real life? LOL). 
As for the characters? I LOVE OZ so much! He's the brave, bad guy looking type of guy. He's the kind of man who you won't expect to be so kindhearted. He's awesome in so many ways. Emily is the sweet type of girl but she refused to know the truths about her life at first. She's lovely and I like how she changed and accept her family but somehow she's reckless.
I honestly tweeted the author while I'm reading the book, I just can't help it. Sometimes I had to stop because the emotion is too much to handle especially when something happened to Olivia, I remember my mom in there so I cried a lot. I tweeted Katie about it too. But all in all? I had a great time reading this I enjoyed every page, I enjoyed each of the characters. The book itself is amazing it is full of hope, love, trust and bravery. I'm attached and in love with this book! I am really looking forward to my physical copy soon. I'll definitely recommend this book to my friends and other people. 
"Love the other people in your lives as if this was your last day because you never know if it is."
"Sometimes people create a world that gives them power. Sometimes people create a world to find friends with similar interests."