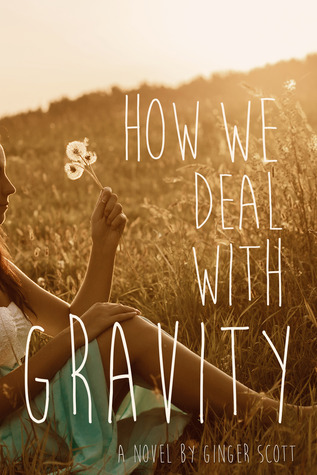 Title: How We Deal with Gravity
Author: Ginger Scott
Published:  July 6, 2014
When her son Max was diagnosed with autism, Avery Abbot's life changed forever. Her husband left, and her own dreams became a distant fantasy—always second to fighting never-ending battles to make sure Max was given opportunity, love and respect. Finding someone to fight along her side wasn't even on her list, and she'd come to terms with the fact that she could never be her own priority again.
But a familiar face walking into her life in the form of 25-year-old Mason Street had Avery's heart waging a war within. Mason was a failure. When he left his hometown five years ago, he was never coming back—it was only a matter of time before his records hit the billboard charts. Women, booze and rock-n-roll—that was it for him. But it seemed fate had a different plan in mind, and with a dropped record contract, little money and nowhere to go, Mason turned to the only family that ever made him feel home—the Abbots.
Avery loved Mason silently for years—until he broke her heart…completely. But time and life have a funny way of changing people, and sometimes second chances are there for a reason. Could this one save them both?
I find the story of this book beautiful, heartwarming and inspiring. Reading the book feels like I'm inside it watching the characters move and speak. I was so drawn with this. I like how the story was written, it is catchy to be honest. The book is the easy-to-read type but you'll definitely enjoy it. This book causes heartache too but it has the happy ending that everyone is looking forward to in a book or movies. This also gave me a lot of emotions that is so hard to control. 
Avery is a single mom to Max who has autism. She's the kind of woman who works and study at the same time but still managed to organize things around her. Her main focus is Max, the child is smart and focused. He never knew who his dad was, he never to anyone that easy and he always like things in order. Avery and Max lives with her dad. Avery works for her dad too. Things in her life are all in order until Mason came back to town. Mason is a musician who encountered a failure in life and decided to go back to the place where he started and try things over again. He's a good man. Things between him and Avery changed a lot when their world collided the second time around. 
"… She's always been home." – Mason
Second chances exists in this book and seriously it is beautiful how things in two people changed. It is wonderful how two different people get along like they're acting as one. It is just so pretty and imagining the story makes my heart ache because I just so love it, cover to cover, front to back and everything in between. (LOL)
If you readers are looking something to read that is light and has happy endings then you have to read this book, there's a lot happened but I don't want to spoil you. I said enough I think but there's more in here. This book was in my kindle for months and this was the first time I read this and I regret not reading it right away when I got it but now that I'm done with it, I guess it's time to share this thoughts to other people. Give this a try and you'll love it.
"Life is full of things that don't go according to plan."
"Don't give up on your own happiness just because you're afraid it's too damn hard to have."
My Ratings
Source:
Goodreads