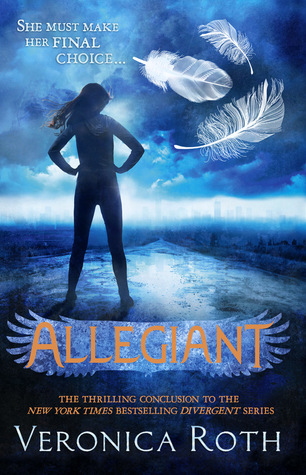 Title: Allegiant (Divergent #3)
Author: Veronica Roth
Published: October 22, 2013
Publisher: HarperCollins
The faction-based society that Tris Prior once believed in is shattered – fractured by violence and power struggles and scarred by loss and betrayal. So when offered a chance to explore the world past the limits she's known, Tris is ready. Perhaps beyond the fence, she and Tobias will find a simple new life together, free from complicated lies, tangled loyalties, and painful memories.
But Tris's new reality is even more alarming than the one she left behind. Old discoveries are quickly rendered meaningliess. Explosive new truths change the hearts of those she loves. And once again, Tris must battle to comprehend to complexities of human nature – and of herself – while facing impossible choices about courage, allegiance, sacrifice, and love.
Told from a riveting dual perspective, ALLEGIANT, by #1 New York Times best-selling author Veronica Roth, brings the DIVERGENT series to a powerful conclusion while revealing the secrets of the dystopian world that has captivated millions of readers in DIVERGENT and INSURGENT.
First of all, I want to say thank you so much to HarperCollins for giving me a copy of Allegiant way back November 2013.
Since that time, I tried to open it once but then I failed on finishing it, I wasn't ready to end the series just that. So I got another opportunity and this time I was able to finish the book, and to be honest I can't decide if that was a good decision or not. Thinking that one of your character died is so sad and annoying. My last reaction was "OMG WHY V.ROTH?!". Many friends of mine told me not to finish the book anymore because I will get disappointed, and well.. I'm not that disappointed I was just sad until now because that happened and the death is simple as that. I called it simple because with all the things that happened from the previous book.. that's the only reason the character died.
I can't get over with it!!! LOL, but anyway aside from that part, I still enjoyed reading the rest of the book. This was still one of my favorite series. I actually didn't expect the sudden twist of the whole book. It was like so different from the two books. I am still a Tris and Four fan!!! I love them both so much that it hurts to think one of them died! (SORRY SPOILER!)
Well what more? I can't think of anything anymore this is so hard! actually, I tried to plan what to write in here but end up nothing. I hope this review makes sense though. I won't make this long anymore because seriously, how can you explain something that doesn't involve spoiling your readers? I might end up spilling things out and I'm sure not all people read Allegiant yet. SO! OMG people you have a choice either read the book or wait for the movie to come out BUT in my case I can't wait so I decided to just read and finish it.
So.. this is such an awesome, heartbreaking, catchy book which every reader will love.
My Rating
Veronica Roth is from a
Chicago suburb. She studied creative writing at Northwestern University,
and wrote DIVERGENT (Katherine Tegen Books, May 2011) and INSURGENT
(May 2012). The third and final book in The Divergent Trilogy,
ALLEGIANT, will come out on October 22, 2013. In the meantime she will
spend endless hours browsing Wikipedia in her pajamas as she eats corn
flakes. (Or some other kind of bland breakfast cereal.)