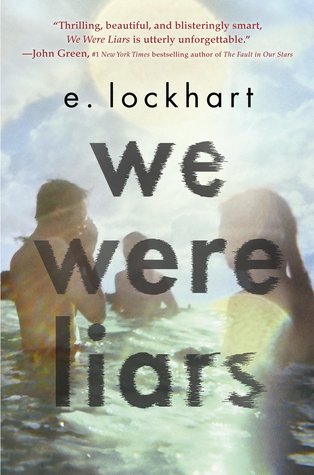 Title: We Were Liars
Author: E. Lockhart
Published: May 13, 2014
Publisher: Delacorte Press
A beautiful and distinguished family.
A private island.
A brilliant, damaged girl; a passionate, political boy.
A group of four friends—the Liars—whose friendship turns destructive.
A revolution. An accident. A secret.
Lies upon lies.
True love.
The truth.
We Were Liars is a modern, sophisticated suspense novel from National Book Award finalist and Printz Award honoree E. Lockhart.
Read it.
And if anyone asks you how it ends, just LIE.
This book is not good at all and it's the worst book I've read.
Of
course I am lying. This book really catch my attention since last year
when I got an eARC from NetGalley. But the second time I re-read this
book, I can still feel the goosebumps, heartaches and I appreciated it
even more. I just love this book in an unexplainable way. It's like when
you read it, you'll think that it is okay but as you continue you'll
start asking questions and then when you're close to the highlight of
the story you'll feel all the emotions, the heartaches, regrets, happy
memories and so on. It is worth a person's time for reading and money
for buying it. I had no regrets spending money for this beautiful book.
To be honest I even tried listening to audiobooks over YouTube and
seriously it makes me want to read it again. I won't get tired
re-reading it. For the first readers, maybe you'll think this
book is boring but when you look at the other side of it, if you tried
your best to pursue reading you'll find out that this book is such a
perfection. It is just made in a first person's point of view, it has
the poetic way and her words will get stuck in your head. I'm struggling
writing this review because I seriously don't know how my thoughts will
be put in to words and I don't know what are the exact words to
describe this book.
We are the Sinclair. (love that line). This
book revolves around the Sinclair family who loves to go to the island
every summer. Cady, Mirren and Johnny are the cousins while Gat is the
nephew of their Aunt's boyfriend but four of them are called "the
liars". Each of them lied, each of them have secrets. Cadence (Cady) was
involved in an accident that caused her to have a partial amnesia. She
went back to the Beechwood Island to try to remember what occurred two
summers ago. Her own family refused to tell her what happened so she was
trying her best to figure out on her own. What she discovered was
really tear-jerking.
I'll stop there, I might end up being a spoiler
but to the readers who haven't read the book yet, I suggest you try. I
kept telling my local friends to try and read it too though. And to
those who tried I'm just so happy with their feedbacks I can't help
smiling and fangirling over and over again.
I want to take this
opportunity too to say that I met E.Lockhart in person and got my book
signed. She was really lovely and friendly. I like the way she talked
and I love the way she explains how she wrote her book and what inspired
her. What more can I say? A perfect book comes from a perfect type of
author.
"Silence is a protective coating over pain."
My Rating