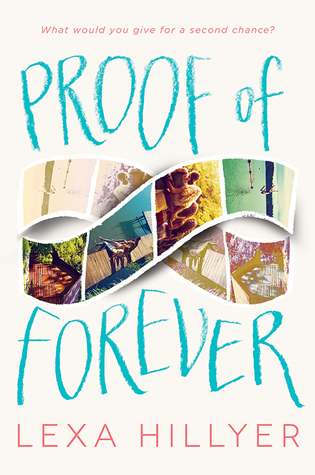 Title: Proof of Forever
Author: Lexa Hillyer
Expected Publication: June 2, 2015
Publisher: HarperCollins
BEFORE: It was the
perfect summer of first kisses, skinny-dipping, and bonfires by the
lake. Joy, Tali, Luce, and Zoe knew their final summer at Camp
Okahatchee would come to an end, but they swore they'd stay friends.

AFTER: Now, two years later, their bond has faded along with those memories.

THEN:
That is, until the fateful flash of a photo booth camera transports the
four of them back in time, to the summer they were fifteen—the summer
everything changed.

NOW: The girls must recreate the past in
order to return to the present. As they live through their second-chance
summer, the mystery behind their lost friendship unravels, and a dark
secret threatens to tear the girls apart all over again.

ALWAYS: Summers end. But this one will change them forever.
Have you ever think of having second chances? Have you ever think of going back to the past where you could just repeat everything you did and probably change the future? I'm asking because I do. Like every single day, I wish I could live in the past for a while.

I could say that this book is a great read. I had mixed emotions and the one that stays is the ending that made me cry. Reading this made me excited and frustrated at the same time because when I was reading  the scene was getting to the climax then something will happen that you'll get annoyed and sometimes I want to ask the author, why did you wrote that I was already excited (LOL). I had fun reading it. I liked how each and every one of the characters have their own side story. I like how each of them learned their mistakes and how they figured out their actions on how are they going to change their selves. I like how everyone just try to change the future but end up getting the opposite of what they wanted.
"Everyone always says it's the little things in life that really matter"

Friendship that's what they wanted to focus on here. Little things like friendship matters. I like how the wrote about the twists and turns from everyone's life on this book. From Tali, to Luce to Zoe and to Joy. The four of them are best friends but two years passed Joy avoided the three of them for some unknown reason. Joy suddenly appeared and called them for a reunion but what happened is something extra ordinary. They all went back from two years ago, their day at the camp where every memories are good. Days passed and so many things happened and on their last day, is also the day they knew what really happened to Joy, or what was really the cause of her disappearance.
"It's unfair, that you just have to accept things, take whatever you're dealt and work with what you got. But you get to a point where at least you're happy for the time you did have."

The ending of the book broke me in to tears. Beautiful book. That is how I will describe the book in one word. It's something that I will never forget because it makes me realize that second chances maybe a good thing or a bad one, but still I will take the risks though, going back one year or two years ago? Why not.

And what caught my eye first thing is the cover. I wasn't expecting something that deep kind of story when I saw the book cover, all I know is that this will be a good book but I didn't expect that it will be really good. I can't wait for the hard copy of this book. I will definitely buy it and read it again. I fell in love with it so much.

I already suggested this book to some of my friends and tell them about the story and I even told them it made me cry and they smiled at me. So to the people reading this blog, I will also recommend this book to you. It is a must try!

Thank you Lexa! For giving me a chance to read your wonderful creation.
"You can't just rely on your strength. You can't win if you're holding back"
My Ratings
I'm the author of Proof of
Forever, and the poetry collection Acquainted with the Cold, which won
the 2012 Foreword Book of the Year Award's Gold Prize for Poetry. I'm
also the co-founder of literary incubator Paper Lantern Lit. My poetry
was anthologized in Best New Poets 2012, and appears in several
journals. I live in Carroll Gardens with an extremely lovable husband
and a very skinny orange tree. Follow me on instagram @ProofOfLex and
twitter @Lexa_Hillyer !