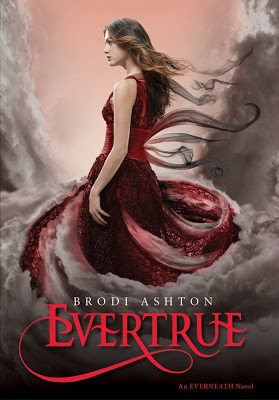 Title: Evertrue (Everneath, #3)
Author: Brodi Ashton
Publisher: Balzer + Bray

Published: January 21, 2014
Now that Nikki has
rescued Jack, all she wants is to be with him and graduate high school.
But Cole tricked Nikki into feeding off him, and she's begun the process
of turning into an Everliving herself… which means she must feed on a
Forfeit soon — or die.

Terrified for her survival, Nikki and
Jack begin a desperate attempt to reverse the process using any means
possible. Even Cole, who they expected to fight them at every turn, has
become an unlikely ally — but how long can it last? Nikki needs to feed
on Cole to survive, Cole needs Nikki to gain the throne in the
Everneath, Jack needs Nikki because she is everything to him — and
together, they must travel back to the Underworld to undo Nikki's fate
and make her mortal once more. But Cole isn't the only one with plans
for Nikki: the Queen has not forgotten Nikki's treachery, and she wants
her destroyed for good. Will Nikki be forced to spend eternity in the
Underworld, or does she have what it takes to bring down the Everneath
once and for all?

In this stunning conclusion to the Everneath
trilogy, Brodi Ashton evokes the resiliency of the human spirit and the
indomitable power of true love.
Have you ever sacrificed something to your love one? Have you ever loved someone and you're willing to take every risks that is on the way when you know that your fate is between life and death? That's what this book taught me. Love is something worth fighting for.
"You are my peace and my home. You are everything. The pain isn't real. The hearts are."

Evertrue is heartbreaking, exquisite, enticing kind of book which every reader will enjoy. The way it was written is catchy yet simple. You won't get lost with every twists and turns instead you'll get more interested when the story changes. When I was reading it, I just found myself turning the pages until I reached the next chapter and the half of the book until I finished it. I hardly place the book down seriously I even stayed up late though I have work the next day just to finish reading the book. Ever since book one that was what happened to me. The way it was written is beguiling, you won't get lost in the story maybe even if you didn't start reading the book one you'll get what happened on the previous book. Everything in the chapter will give you surprises so you will just keep reading.

I fell in love with the characters especially Jack and then I fell in love with the story and the cover of the book and of course the love story of Jack and Nikki. It was really enjoyable to read. The ending of the book made me sad though. Even if I'm so not in to Cole, I feel bad to what happened to him because he really did efforts for Nikki and even sacrificed his own life to protect the girl he loves. Jack and Nikki's story is very beautiful and you'll seriously love Jack right away. He's very sweet, loving and a type of man who every girl wants to keep. Nikki is the kind of girl who would do anything to protect her love ones. Their story is the one you will love forever and you'll think that it is perfect.
I might end up spilling the story. I don't want that to happen, I just love the book so much and it makes me sad that it has ended. I want more of Jack though. LOL. Anyway, to all the readers out there who hasn't read the series yet, you must read it!
"There are some things that you just can't apologize for. Some things are too big for apology."
My Ratings
I write Young Adult novels. I eat cinnamon bears. I love me some Diet Coke. 

My debut book EVERNEATH (the first in a trilogy) comes out Winter 2012 with Balzer and Bray (Harper Collins).

I'm represented by Michael Bourret at Dystel and Goderich Literary Management.


Source: Goodreads