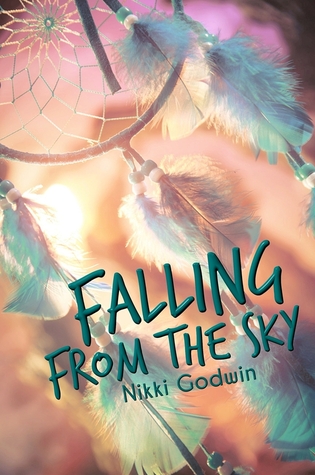 Title: Falling From The Sky
Author: Nikki Godwin
Published: February 21, 2014



All stability in sixteen-year-old Ridge McCoy's life crashed and burned in the plane crash that killed his dad. This summer-long basketball camp is his chance to improve his skills and escape his problems back home. But his summer plans take a turn in an unexpected direction when he meets Micah Youngblood, the guy who runs the carousel at the local mall and has a reputation for devouring straight boys' heterosexuality for breakfast, alongside his chocolate chip pancakes. 
Ridge needs a way to avoid the guys at camp, whose only quest for the summer is to drown in beer and hook up with girls. So when Micah offers to explain how the ten unique horses on the carousel are significant to his tribe, Ridge takes him up on it. Still, Ridge can't decide if this is a bad thing or not. All he knows is that he hasn't felt this alive since his dad fell from the sky, and as the horse adventures come to an end, Ridge finds himself falling as well – for Micah.
HAPPY NEW YEAR!!! This is my first review post for 2015 and I'm looking forward for more! Well.. hope everyone had a good new year celebration because mine is totally awesome! Wish us all a prosperous year.
Well.. about my book review, it is my first time to read an LGBT kind of book and I want to be really honest with this one because it's my first try! So here… reading this book at first was okay with me I meant it was normal so I go on and as I turn the pages, I noticed the change of the story and I kind of weird-ed out.. I'm not sure how to react at first so my first word was "WHAT?!" But I still continued reading and what I liked about this book is that it is an easy read, it is romantic and cool. I like their story and I seriously love it, I was thinking if that kind of story happened in real world, I was trying to relate two different worlds LOL. Reading this kind of book has a different feeling in me but it is not a bad feeling you know it is good and weird and I don't-know-how-to-react kind of way. 
For me, Chapter 10 was the part where everything gets so interesting to me. It is where I had that different feeling and I seriously tweeted Nikki about that part! I can't believe I did and I fangirled like a crazy kid.  
See that? LOL. 
Anyway, chapter 10 changed everything and that part is the reason why I loved it and why I want to pursue reading the e-book. I have no regrets on accepting this LGBT book for a review. AND hopefully there is a part two because I want to know more about their story if Ridge (the basketball guy) will make his way back to Micah (the carousel guy). 
Ridge, is the straight guy here, seventeen years old and a basketball player who joined the camp and in the mall is where he met Micah, the carousel guy (now I wonder if the author mentioned his age, I think not). Their story is extra ordinary and sweet. I seriously get caught with their romantic moments and they had a little misunderstandings which made me sad too. It was really lovely and gave me goosebumps because it is good and I started recommending this book to my friends. Another thing that I noticed was that the band from Emily Godwin's book was in here the Mutilated Arteries the band with the weird names. That's what I love about Nikki's writing, she can insert the bands from the different books without being out of place like it was really part of the book since you opened and decided to read it. Lastly, I noticed that Falling From The Sky was mentioned so many times and it was like redundant, but it was okay just that ocd problems. But all in all, the book itself is really interesting. I will never get tired of reading it but please BOOK TWO?! haha
Thank you Nikki for giving me a chance to read this amazing book of yours! It was a challenge for me because it's LGBT but I didn't feel any bad things in here, things turned the other way around I just loved it.
My Rating
Nikki Godwin is a YA/NA/LGBT author. She can't live without Mountain Dew, black eyeliner, and music by Hawthorne Heights. When not writing, she internet-stalks her favorite bands and keeps tabs on surf competitions. Her favorite surfer is Gabriel Medina. If you ever get her started on surfing or music, she'll never shut up. You've been warned.