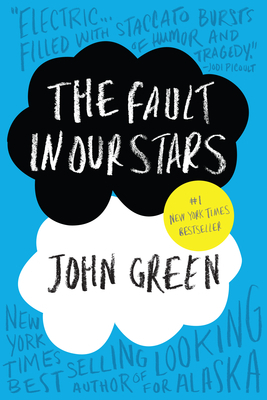 Title: The Fault In Our Stars
Author: John Green
Publisher: Dutton Books
Published Date: January 23, 2013



Despite the tumor-shrinking medical miracle that has bought her a few years, Hazel has never been anything but terminal, her final chapter inscribed upon diagnosis. But when a gorgeous plot twist named Augustus Waters suddenly appears at Cancer Kid Support Group, Hazel's story is about to be completely rewritten.
INSIGHTFUL, BOLD, IRREVERENT, AND RAW, The Fault in Our Stars is an award-winning author John Green's most ambitious and heartbreaking work yet, brilliantly exploring the funny, thrilling, and tragic business of being alive and in love.
I've been planning to read the book for so long but I don't have a physical copy (which I prefer the most). Then there were rumors about the upcoming movie so I've been so desperate but a year passed by I haven't got a chance to buy a copy, so four days before the movie's showing, I asked someone if she can lend me her copy of the book, I am so glad that she agreed. I read it the day after she lend it and I finished it the same day. You know what was my first reaction after reading the book? "what happened there??? WHY????" and there's this "so that was The Fault In Our Stars!" with a sad face because it really shattered my heart into pieces and until now I have a book hangover and a movie hangover!
The book is so pretty, the story is heartbreaking yet you will love reading it. It has so much emotions in it and this is the kind of book where you'll cry but there are parts that you will laugh and forget about the sad ones. As a reader you will feel that you're inside the book and whatever the character feels you'll feel it too. The book's cover is simple but catchy the story is full of mixed emotions, everything is just so amazing. It attracts the reader's attention and hey! You can't put it down and say "this is not a good book" because it is a pretty good one. You'll got hooked instantly while reading.
Every character is unique and amazing. They are not annoying ones in fact you will love all of them. Hazel Grace has a cancer (everyone knows that), she has lung problem and she's under medication but despite her condition she's a fighter, a happy and smart young lady who loves to read books. Augustus Waters is a jolly cool guy. He lost his leg because of cancer too but he is sweet, charming, funny and a happy-go-lucky man. He and Hazel are perfect match, they both love to read and they are like two normal people who can easily solve one problem as long as they're together. They created a perfect love story and their sickness didn't become a hindrance. One more character I love is Isaac, Augustus' bestfriend. He is a great friend, he's cool and he is the type of bestfriend that no matter what happened he is still there for someone, despite of what happened to him, he remained a true friend for both Hazel and Augustus.
I wont create a summary for the book because  I might end up telling the whole story, for those who haven't read yet or watched the movie, please give this a shot! It is really a good book or should I say a great book? Honestly I had a hard time writing this review, I can't put into words those feelings I had towards the book, I had a hard time expressing everything, I was so speechless. It took me five tries to compose this whole thing and I still don't think this one is a good review.
To sum up this stuff that I've written, the book is worth your time, money and effort for reading it. It is so fantastic and extraordinary despite its heart-wrenching twists.
PS: The movie is a great one too!! I really cried there!
To John Green,
Thank you for this book!
I LOVE THESE LINES SO MUCH!
"I'm in love with you," he said quietly.


"Augustus," I said.


"I am," he said. He was staring at me, and I could see the corners of his eyes crinkling. "I'm in love with you, and I'm not in the business of denying myself the simple pleasure of saying true things. I'm in love with you, and I know that love is just a shout into the void, and that oblivion is inevitable, and that we're all doomed and that there will come a day when all our labor has been returned to dust, and I know the sun will swallow the only earth we'll ever have, and I am in love with you." 


If someone tell these lines to me or maybe similar and he's sincere I'll cry right in front of him. LOL.
My rating originally is 10 over 5 hearts
John Green's first novel, Looking for Alaska, won the 2006 Michael L. Printz Award presented by the American Library Association. His second novel, An Abundance of Katherines, was a 2007 Michael L. Printz Award Honor Book and a finalist for the Los Angeles Times Book Prize. His next novel, Paper Towns, is a New York Times bestseller and won the Edgar Allen Poe Award for Best YA Mystery. In January 2012, his most recent novel, The Fault in Our Stars, was met with wide critical acclaim, unprecedented in Green's career. The praise included rave reviews in Time Magazine and The New York Times, on NPR, and from award-winning author Markus Zusak. The book also topped the New York Times Children's Paperback Bestseller list for several weeks. Green has also coauthored a book with David Levithan called Will Grayson, Will Grayson, published in 2010. The film rights for all his books, with the exception of Will Grayson Will Grayson, have been optioned to major Hollywood Studios.